Audio systems are often the unsung heroes in stadium renovation with seating, suites and concourses commanding the most attention. But the 65,000-seat Alamodome in San Antonio, Texas, which hosts every sport from soccer to basketball, hockey and football, is aiming to put sound front and center.
As the demands have increased on the original sound system, which was installed in 1993, the decision to upgrade the audio experience called upon Dallas-based technology design firm Idibri to deliver a system that can offer high SPL (sound pressure levels) and enhanced intelligibility, with audio clarity not being effected by fan noise and reverberation.
Being a domed structure, however, the acoustic and ambient noise can pose a challenge for an audio system. With the famously raucous NCAA Final Four games being held at the venue in 2018 for the first time in 20 years, the Alamodome made it an objective to install a sound system that meet its needs.
Audio manufacturer L-Acoustics, which has been supplying sound for sports venues such as the AT&T Center and Toyota Center was chosen for the job.
The L-Acoustics K2 system, which comprises 76 K2 boxes, a dozen KS28 subwoofers powered by LA8 and LA12X amplified controllers, with support from X8 coaxials on the club level, was installed by LD Systems.
"The Alamodome is a huge venue with some very real acoustical challenges, but you still want to give every seat the same great experience," said Ray Givens, project manager for LD Systems, on the Alamodome sound system renovation.
"The K2 lets us get excellent coverage and meet the SPL requirements of every game, including the Final Four—which will get really loud—without sacrificing speech intelligibility."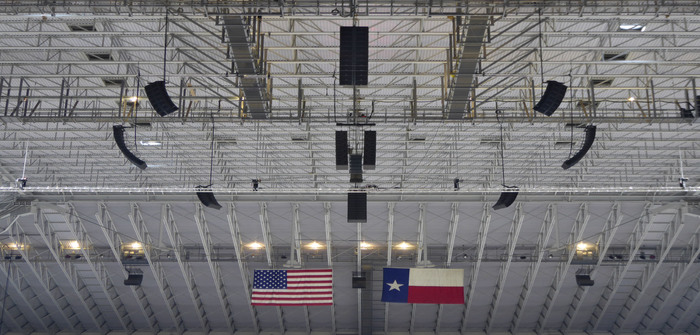 Installation of the system utilized L-Acoustics's Soundvision – a 3D sound design program that operated in real time, which enabled engineers to work out the best positioning for the arrays of speakers, as well as additional hang points for concert setups.
"The Final Four is unique in that it will bring in additional seating for the games," said Ryan Knox, senior consultant at Idibri.
"But the K2 will cover that with the exception of a few small gaps that will be easily addressed with a few additional speakers. The K2 covers everything else all the time, including even the suites areas, which had been an issue in the past."
February 14, 2018