Designing an audio system to battle the noise of Ultimate Fighting Championship (UFC) crowds in arenas can be a challenge, but a new loudspeaker system has been developed exclusively to cater for the intense events.
Audio company Meyer Sound stepped up to the challenge to support all UFC events in North America and created an audio system that can scale to any size arena, with seamless coverage, and hang out of sight for fans and TV cameras.
The so-called 'Dream System' is a newly custom-configured setup comprising a total of 120 Leopard line array loudspeakers, specifically design for raucous Ultimate Fighting mixed martial arts events. The entire arena seating bowl is covered by the six-hang exploded center cluster of Leopard arrays.
"With the old system we used eight arrays, but we would get some slapback from the big video screens hung at the 45° positions," said Daniel Bonneau, the principal architect behind the system. "Now, with the six-array configuration we avoid firing at the screens, but the wide horizontal of the Leopards still gives us seamless coverage."
Key to the build is convenience and clever, out-of-sight installation. One element of Bonneau's solution was to implement a fiber-optic AVB network for linking FOH to the Galaxy processors for the arrays. But as the arrays had to be flown high above the center scoreboard-mounted video screens it posed the issue of placement for array processors.
Bonneau's innovative solution was to build two custom steel pods, one flown on each side of the center scoreboard, and each serving three purposes.
The top portion provides storage for the cable looms connected to the three Leopard arrays covering each end of the arena; the pod's side incorporates racks for power distro along with two Luminex AVB network switches and four Galaxy processors; and the bottom provides rigging points that support two different configurations for the 1100-LFC low frequency control elements.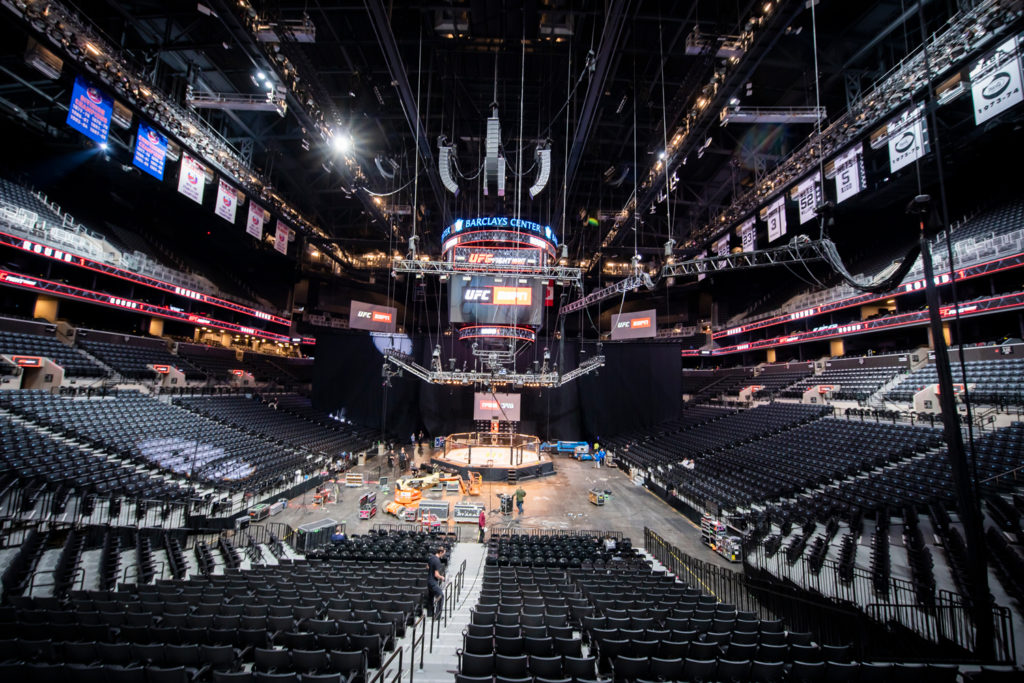 "It's unbelievable how much quicker things are going now," claimed Bonneau. "We're saving over an hour on load-in and at least a half hour on load-out. If points are clear, we're typically floating off the ground in three hours. The way we package the system, the array boxes are rolling on carts of four, with our side hangs 12 deep and end hangs 16 deep."
Also, directly underneath the Octagon mat are five Sennheiser 421 microphones that are routed directly to the 1100-LFC elements.
"When a fighter gets picked up and thrown down, it lays your hair back when he hits the mat," said Bonneau. "The fans may not be consciously aware of the effect but it intensifies the total experience."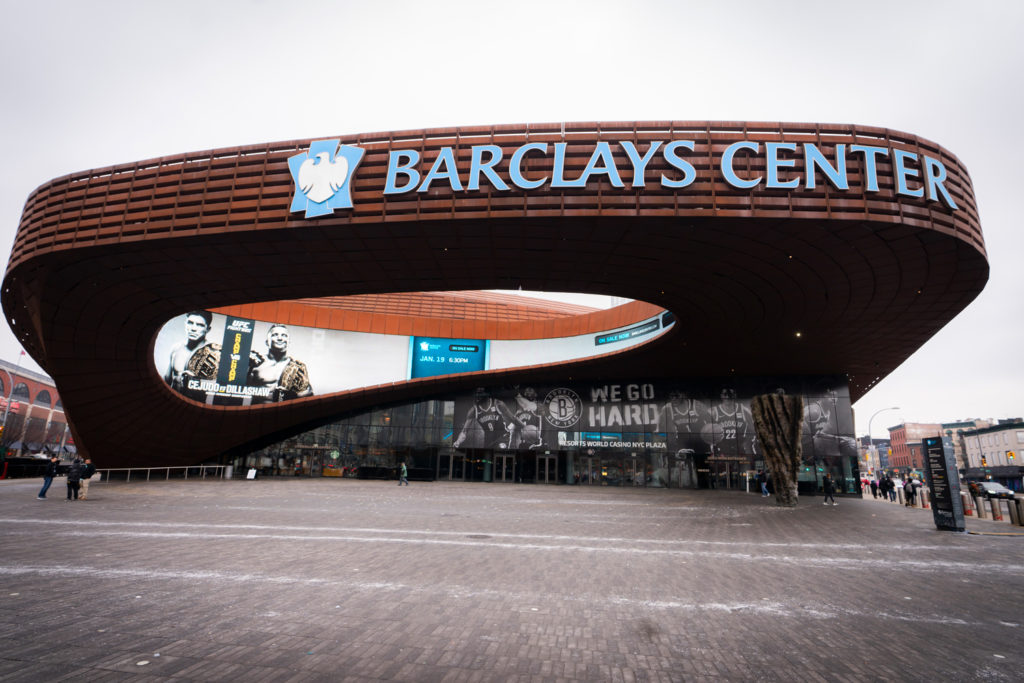 Photo credit: Chris Lee