MMArena, home to French soccer side Le Mans FC, has carried out Europe's first ever pitch transfer between two arenas after it installed hybrid turf removed from the Allianz Riviera Stadium in Nice, which is over 622 miles away.
The logistics of an operation on this scale involved a six-week process that saw the entire high-tech Mixto technology turf transported, piece-by-piece, and re-laid to replace the eight-year-old pitch at the MMArena.
Once ranked the 13th best turf in France, the Mixto turf was installed at the Allianz Riviera stadium in 2017 where two Champions League matches, four Europa League matches and international games were played upon its surface.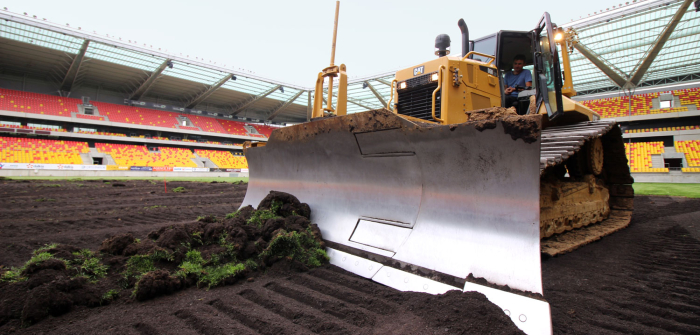 With the demand for flawless, harder wearing playing surfaces, MMArena decided to upgrade its natural turf, and with an upcoming concert on the calendar at the Allianz Riviera it made for perfect timing to make an agreement between the stadium operators to transfer the turf before the July event.
French company Id Verde was in charge of carrying out the work, which began on June 26, 2018.
Diggers were first brought into the MMArena to remove the existing pitch by scraping off 8000m² of the turf profile, resulting in 3000 tonnes of evacuated materials. This was loaded onto trucks and taken away before 2407 tonnes of lower sand was delivered, spread and laser leveled with a 0.5% slope to prepare the new pitch profile. The sand was enriched with organic nutriments then 4.7in of upper sand was spread on top.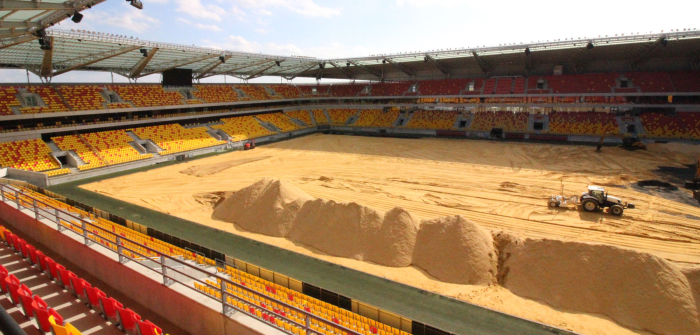 Meanwhile in Nice, on the Cote D'Azure in the south of France, the pitch harvesting was taking place, which involved 11 technicians and took three days to complete. Strips of the hybrid turf were cut and carefully rolled, culminating in a total of 768 rolls, which were then loaded onto 24 refrigerated trucks keeping the turf below 15°C during the journey between the cities.
It arrived at the MMArena 24 hours after removal, where its temperature was checked and then unloaded on pallets ready for returfing, where 13 technicians took five days to meticulously place the strips into its new home with the final roll of turf laid on July 3.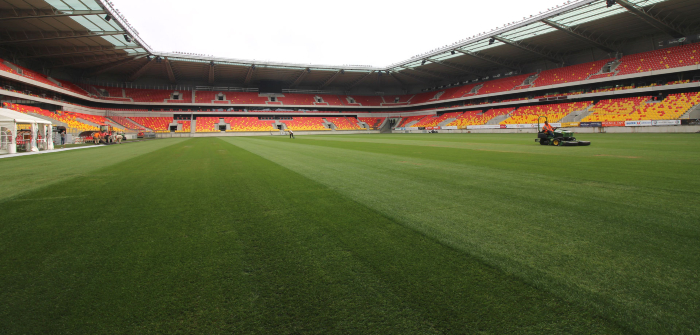 A three-week process of final preparation then followed with joins carefully examined to ensure a perfect fit and no lift, then plug patching, sand dressing, mowing and watering was performed.
The result is a hybrid pitch for the MMArena reinforced with 57.6 million synthetic fibers to reduce CO₂, which helps strengthen its roots and prevent disease.
The hybrid turf soil is designed to offer a stable playing surface to ensure safety for athletes and bounce for the ball, while its permeable substrate promotes air circulation and optimal drainage that offers the guarantee of year-round playability.
July 11, 2018