The team, which recently made the headlines for acquiring English soccer star Wayne Rooney, will be moving out of Robert F Kennedy (RFK) Memorial Stadium where it has played home games since 1996 to another new asset – the Populous designed, state-of-the art, Audi Field.
The stadium, which has a capacity of 20,000, is built in the Buzzard Point district of Washington DC and is one of the tightest sites in all of US professional sports with a footprint of less than 10 acres. This is made achievable by being the first professional stadium without a public parking lot.
"Bringing Audi Field to life on the tightest stadium site in MLS history required innovative, smart design solutions," said Jon Knight, senior principal at Populous.
"The result is a stadium with an urban aesthetic reflective of the area's industrial roots that makes strategic use of its land. Through a steep seating bowl, zero added parking and street-level retail spaces, Audi Field embodies the broader social culture and public transit systems of the District."
Fans in the supporters' section at the US$400m downtown stadium will be sat in one of the steepest rakes in the MLS at 33°, while first-of-their-kind field-level suites are closer to the pitch than at any other venue in the league.
There are a number of premium options including 31 suites consisting of three high-end suite types, each with different experiences, as well as clubs and bars and retail space surrounding the venue.
While DC United will play its home games at Audi Field, the facility has also been designed to be used as a year-round multipurpose facility that will cater for a large variety of events.
Audi Field feature the first party deck in the MLS, the Heineken Rooftop, which offers a place for fans to socialize and take in views of the city and surrounding Nationals Park.
Audi Field by the numbers:
Project cost: US$400m
Capacity: 20,000
Groundbreaking: February 2017
Completion: July 2018
Total gross square footage: 437,938ft²
Main video board: 86 x 38ft
Suites:
Three levels of high-end premium suites (31 total)
Clubs:
Heineken MVP Club – 586 seats
EagleBank Club – 1,383 seats
Heineken Rooftop: general admission
Supporters Section: 1,500 seats
Transportation:
No public parking
83 bicycle parking spaces
190 bicycle valet spaces
Architect: Populous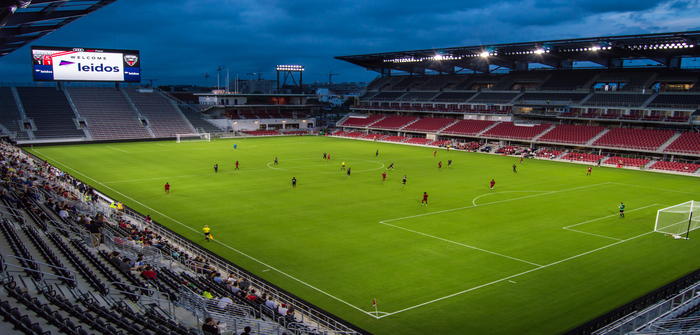 By Illya Verpraet
Images: Courtesy of DC United
July 19, 2018