Credit: Ben Tanner
Built in 1936 as the Orlando Stadium, and known as the Citrus Bowl until 2014, Camping World Stadium was completely reimagined as part of Orlando's Mayor Buddy Dyer's "Triple Crown for Downtown" initiative, which also saw the construction of new state-of-the-art venues including the Amway Center and the Dr Phillips Center for the Performing Arts.
Intended to transform the stadium into a modern entertainment destination, the refurbishment timeline had to accommodate existing bookings.
Credit: Florida Citrus Sports
"We couldn't afford to shut down the stadium for a year or two and miss out on any of our already scheduled events, so we had 10 months – from late January to November of 2014 – to do the renovation," says Allen Johnson, chief venues officer of Orlando Venues, the City of Orlando department that manages Camping World Stadium. "We also had to meet a budget of US$207.7m – no ifs, ands or buts."
The renovation was carried out by HNTB Corporation, an infrastructure solutions firm with over 40 years of sports architecture experience and expertise. The firm had history with the facility, having worked on a 1988 expansion of the Citrus Bowl, when it added the stadium's upper bowl and four distinctive ramp structures.
HNTB's design incorporated additions and amenities that would secure the stadium's standing as a premier sports, entertainment and music venue. Among these were an open-air exterior façade, a 20,000ft² (1,860m²) party deck and nearly 42,000 new lower- and mid-tier bowl seats with chair backs and additional legroom that slightly reduced the stadium's capacity to 65,000 people.
Other amenities included new indoor and outdoor club spaces to serve 5,000 patrons, two 360° concourses, multiple giant video displays, a new press box, and additional and updated restroom, concession and back-of-house facilities.
Credit: WWE
What made HNTB's plan unique was that it involved a complete reconstruction of everything below the upper bowl, keeping it up on stilts while the lower- and mid-bowls were torn out and rebuilt, allowing the firm to redesign the entire flow of the stadium while keeping costs down.
All stadium structures below the upper decks were demolished and reconstructed with concrete and pre-cast concrete. Four large corner ramp towers, previously the facility's visual identifiers, were replaced with elevators, escalators and stairs contained within an open steel framework and highlighted by bright, citrus-colored accent panels that brought a friendly, colorful Floridian flavor.
The economic and marketing impact of this renovation has been huge. According to Johnson, Orlando has always been recognized as a first-class destination for attractions, and now it has world-class venues to match.
The city is already seeing results – since the beginning of 2017, it has hosted the last two NFL Pro Bowls, WrestleMania 33 and a Metallica stadium rock show. The venue is also now in the running to host soccer's 2026 World Cup.
"Working hand in hand with all the key players was critical to this project's success," said Tim Cahill, national director of design for HNTB. "A similar project of this size would have taken 26 months or more, so it was critical to have everyone on board at all times. Having open lines of communication and creating a team mentality really helped this project come together on time and on budget."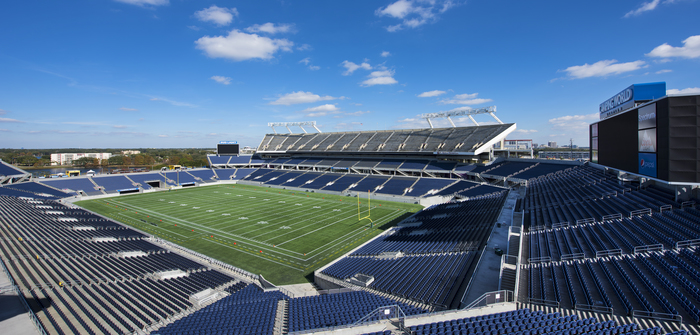 Credit: Ben Tanner.
"We brought in key stakeholders right at the beginning to get their input so we could do this project in the very best way possible," said Johnson. "Throughout the renovation, we worked hand-in-hand with HNTB, the stadium's partners and the city so everyone had buy-in and was working toward the same goals.
"As fast as we were going and as tight as our budget was, we wouldn't have been able to do it if we weren't all on the same page every step of the way. It was a lot of work for everyone involved, but the results are worth it."
Johnson has one final piece of advice for stadiums looking to renovate: "Don't get starry-eyed just because a company says they've had someone work on a particular stadium. Sometimes a company will tout their credentials but the person with that particular experience isn't even on the team. Make sure that the right people are in the right roles, and you'll get the results you want."
April 4, 2018