Daktronics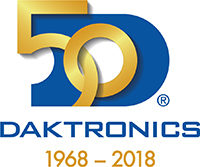 Daktronics is recognized worldwide as the leading designer and manufacturer of electronic scoreboards, programmable display systems and large screen video displays using LED technology. With multiple strategically located international offices, we are able to better serve our customers across the globe. We have the experience and expertise necessary to meet video display needs throughout any facility as demonstrated by more than 23,000 video display installations throughout the world. This includes providing venue-wide communication systems with video displays, marquees and billboards, scoring and timing equipment, and sound systems including luxury suite integration. We are a single-source solutions provider that offers truly integrated systems from video displays and hardware to software and control systems. This includes Digital Media Networks, IPTV solutions and Narrow Pixel Pitch technology to hone messaging at designated suite and concourse areas. This allows any venue to deliver specific messages to target audiences throughout a facility. A recent installation demonstrating our capabilities includes the exterior and interior display systems at Fiserv Forum for the Milwaukee Bucks in Milwaukee, Wisconsin, USA. Daktronics is also installs projects of the largest magnitude highlight by the recent completion of the Halo Display at Mercedes-Benz Stadium in Atlanta, Georgia, USA.
Daktronics puts it all together based on your needs to provide you with the best possible solution for your venue. For more information on the multiple solutions that Daktronics can provide, visit www.daktronics.com or www.daktronics.co.eu.
Narrow Pixel Pitch Technology at Chicago Cubs Headquarters.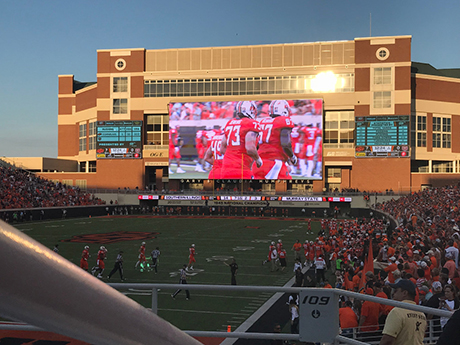 Professional Sports at Mercedes-Benz Stadium.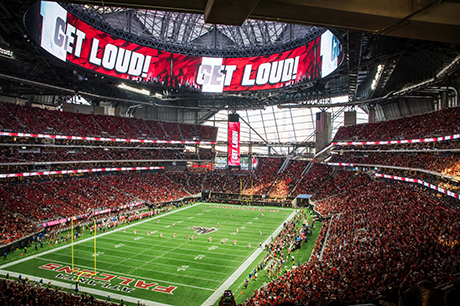 College Sports at Oklahoma State University.