ECCON (LCS Cable Cranes GmbH)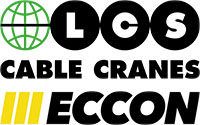 The company ECCON GmbH was funded in 1987 by Horst Zimmermann. The company specialized first in transport solutions for abnormal loads and developed outstanding crane systems for major industry players. For example, a crawler crane for the company zeppelin with a capacity between 40 and 100 metric tons. The general ECCON telescopic cranes could lift around 20 to 40 metric tons.
Over the time ECCON designed and modified their crane systems and start to develop hydraulic systems and electrical drives. Ultimately the company focused on the design and manufacturing of drive systems for all kinds of steel construction, especially for retractable roofs. That's where everything began.
In 1996 ECCON installed its first cable supported retractable roof for the tennis arena "Am Rothenbaum" in Hamburg, Germany. The whole system including the components where design and produced in house. With this pioneering construction ECCON received many different projects all over the world.
ECCON developed and installed drive systems for retractable roofs for the BC Stadium in Vancouver, the National Arena Lia Manoliu in Bukarest, the Commerzbank Arena in Frankfurt, the Festung Kufstein in Austria and many more. For the BC Stadium in Vanouver, a multipurpose stadium for soccer games, music concerts and other events, for example the first inflatable cable-supported roof ever was installed.
A different kind of drive system was developed in 2017 for the ThyssenKrupp test tower in Rottweil. ECCON constructed a rack and pinion drive system to cover the 240m high concrete tower with a membrane. The drive systems consisted of three axes with three drive cogwheels and engines each.
In August 2018 ECCON GmbH merged as a brand into the company LCS Cable Cranes GmbH and is now an important part of the whole LCS Group that consists of the four brands LCS Cable Cranes GmbH, GANTNER, LCS Pipelines GmbH and ECCON.
Development and construction of a drive system for a 9,000 m² retractable roof made of translucent membrane. When the roof is open the membrane is stowed in the center of the stadium.
Development and construction of a drive system for four roofs, which run on separate rails.
When open, the individual segments are stacked on top of one another.
To cover the 240 m high test tower with a membrane ECCON developed and manufactured a drive system to move a 100 ton heavy assembling platform up and down the tower.