Musco Lighting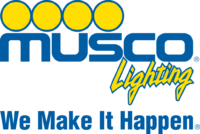 Since 1976, Musco Lighting has specialized in the design and manufacture of sports and large area lighting for venues around the world.
Built on a foundation of responsibility to the needs of facility owners, players, spectators, broadcasters, and the surrounding environment, Musco's innovative solutions have been the sports lighting of choice at everything from neighborhood pitches to some of the most iconic events and venues across the globe. Some of these include Premier League stadiums, international superspeedways, Wimbledon's Centre Court, Manchester Arena, Wembley Stadium, and the Olympic Games.
Musco led the way in researching sports lighting systems utlising the LED light source, beginning in 2008, using its 40 years of knowledge and experience in the control and application of light in a sports setting. The company's Total Light Control—TLC for LED® achieves light control, glare and spill light reduction, uniformity, reliability, and energy efficiency never before possible.
Ideal as a retrofit or a solution complete from foundation to poletop in the form of Musco's Light-Structure System™, TLC for LED realizes the potential of the LED light source in ways no other manufacturer can. With a distinctive system approach—as opposed to the non-system fixtures of other manufacturers—Musco's technology includes lighting, structural components like cross arms, and electrical components that have been designed and engineered to work together. This achieves a level of performance and reliability that cannot be matched.
And Musco's proprietary special effects technology with light-to-sound synchronization, coloured RGBW fixtures, and an array of customisable scenes will enhance any venue's entertainment experience with new, cutting-edge light shows.
Musco's solutions are cost effective and backed by a long-term warranty that covers every part and all labour well into the future. For further information and to learn about free design assistance visit www.musco.com.