Sidekick

SIDEKICK USA has developed the fastest and easiest ways to lay thick-cut turf in the industry – via their turf placement and compressor, A.K.A. SIDEKICK! The revolutionary attachment provides the safest and firmest athletic field immediately. In 2013, SIDEKICK won the STMA Innovative Award for Safety and in 2017 became the official equipment and partner of the Rose Bowl® Stadium.
SIDEKICK units are available for direct purchase or qualified lease. Installations can be arranged through a list of our trusted SIDEKICK installers. From professional stadia to local athletic fields, our equipment uniformly compresses the sod at point of installation by 8-10% on average, creating a plusher sports turf with less movement – all while cutting install time and costs, in addition to eliminating seams between the turf. The result is a softer, stronger, and tighter field!
Endorsements:
"It's just an outstanding machine. It pushes the turf together with a consistent amount of pressure eliminating any seams…it provides the field with tighter seams and the first year of using it I was able to reduce my overall costs… It's one of the biggest innovations in turf field replacements since the introduction of big-roll sod."
— Will Schnell, Turf Superintendent
Rose Bowl Stadium
"The finished product on our field is better and safer when using SIDEKICK®!"
— Tony Leonard, Director of Grounds
Philadelphia Eagles
"SIDEKICK was so easy to use! After a short demo, my guys were using this machine as if they've been using it the entire year…. SIDEKICK rocks – best innovation in our industry in the last 20 years!"
— Wayne Ward, Grounds Manager
Raymond James Stadium Home of the Tampa Bay Buccaneers
"We used to have to constantly walk the field after a re-sod to check all the seams, and now 95 to 99 percent of it is solved with this machine."
— John Nolan, Head Groundskeeper
Soldier Field Home of the Chicago Bears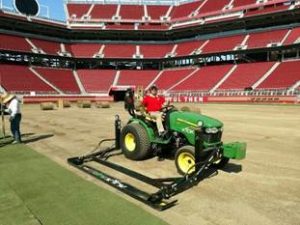 SIDEKICK is currently in use at several dozen high profile stadia around the United States, including Levi's Stadium in San Francisco (shown above), Lincoln Financial Field in Philadelphia, Mile High Stadium is Denver, Raymond James Stadium in Tampa, Soldier Field in Chicago, and famous Rose Bowl Stadium in Pasadena – which is an Official Partner with SIDEKICK USA.

Above is Kenan Memorial Stadium at the University of North Carolina at Chapel Hill. The first photo was taken mid-overnight-install and the second was taken the following day. During the Tarheels' 2017 football season, the field in Kenan Memorial Stadium was replaced over-night half a dozen times in order for the team to practice and play games on the field – all whilst their new training facility was under construction.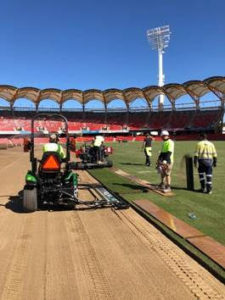 Coming to a stadium near you – As of early 2018, SIDEKICK USA has gone global! The internationally patented turf compressors are now being utilized in Australia and Japan – through our distributor, HG Sports Turf.