Staging Concepts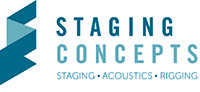 Staging Concepts, based out of Minneapolis, MN, is a leading designer and manufacturer of portable staging equipment. Since 1990, Staging Concepts has provided superior staging product solutions for facilities of all sizes throughout the world. Multiple markets have the need for staging solutions, including performing art centers and theatres, worship halls, hospitality centers, and sports venues.
A custom tiered seating solution, complete with multiple platforms, stair units, and IBC and 2-Line guardrails.
The devoted team at Staging Concepts prides themselves on providing highly innovative staging products within the industry. Staging equipment ranges from performance stage platforms, platform supports, acoustical shells, and seating risers to orchestra pit fillers, stage traps, portable stairs, guardrails, camera/viewing platforms, and more. In addition to these standard products, Staging Concepts also supplies rigging solutions to theatres of all sizes.
Custom, VIP drink rail system designed for an outdoor ballpark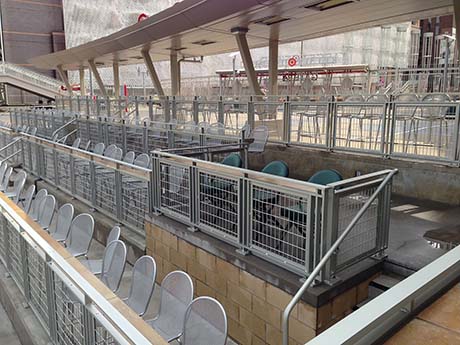 Beyond standard products, the ability to provide custom design solutions sets Staging Concepts apart. With a team of more than 50 engineers in-house, the company offers services that yield exceedingly successful and dependable results. Staging Concepts is well-known for their creative solutions and the capabilities to meet any facility's needs or applications. No matter the layout or size of a venue, the team at Staging Concepts will develop a functional and rewarding solution, designed to exceed expectations. With Staging Concepts, you're bound to elevate any experience.
Multiple standard and custom platforms used to design a specialty performance facility.